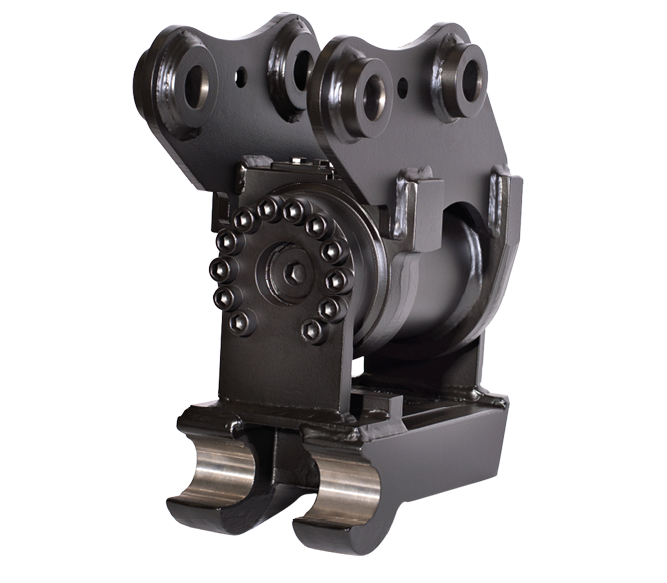 Swivel Device
with PowerTilt Motor und QuickChange Quick Coupler,
Operating Weight 1 to 18 Tonnes
Swivel devices with a swivel motor from PowerTilt are available in a wide range of size classes. The PowerTilt motor has holding torques of 2400 to 70,700 Nm and requires an operating pressure of up to 210 bar. Swivel devices with PowerTilt motors can achieve a swivel angle of 120 or 180 degrees. PowerTilt motors are equipped with an integrated overload valve and an oil feedthrough as standard. This enables easy installation on hydraulic quick-change systems. They also have a standard collecting pipe for easy installation on the carrier.
TECHNICAL DATA

Operating weight: 1 to 18 tonnes
Compatible with the Lehnhoff System
Quick Coupler available as mechanical or hydraulic version
OPTIONAL EQUIPMENT

Load Hook

Installation Kit 32V or 64V for retrofitting the excavator
BENEFITS

Less weight

Compact dimensions

Oil feed-through when used with a hydraulic Quick Coupler
AREAS OF APPLICATION

Earthmoving

Cable Construction

Gardening and Landscaping

Demolition and Recycling

Cleaning Work

Other